TLC Initiative Monthly Issue #16

Teach. Learn. Connect. in September

The TLC (Teach. Learn. Connect.) Initiative is IACLE's new online education and communications program that will supplement our existing educational activities. Our aim is to support our members, students and industry as recovery from the COVID-19 pandemic continues.

Please note that login details for every event are under IACLE Webinars through the IACLETOP Dashboard
---
GLOBAL
Join the President on Facebook live for a special announcement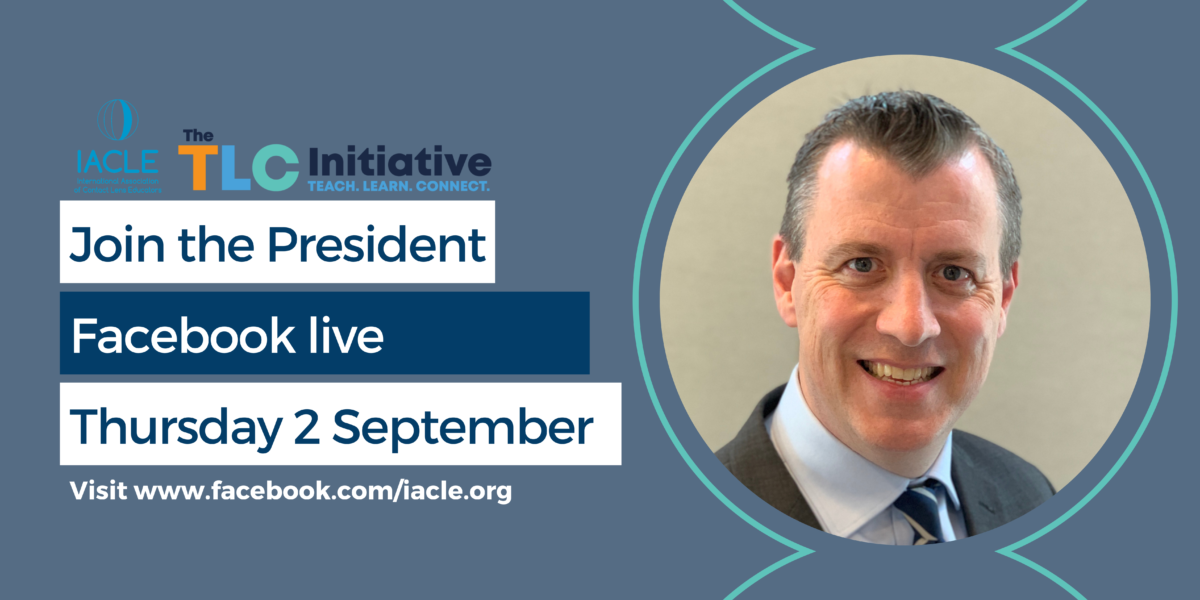 On Thursday 2 September, IACLE President Professor Philip Morgan and newly elected Board Member Dr Byki Huntjens are hosting a Facebook live to announce the details of an exciting IACLE event coming up in the near future. Tune into our Facebook page at 12 noon UK time for the announcement!  Find out what time the announcement starts in your time zone
---
SEPTEMBER THEMED WEBINARS
'Advanced instruments in contact lens practice'
Throughout August and September, IACLE is hosting a global webinar series themed 'Advanced instruments in contact lens practice'. In September, Deborah Jones Clinical Professor at the School of Optometry and Vision Science and Clinical Scientist at the Centre for Ocular Research & Education (CORE) at the University of Waterloo in Canada is hosting a webinar on 'Biometry in myopia management'. Prasad Sawant Founder of Sawant Optometry Clinic in Dombivli, India, is hosting a webinar on the topic of 'External ocular photography'. Please see full details of the webinars below.
22 September at 12 noon UK (BST)
Presenter: Deborah Jones
Topic: Biometry in myopia management
Meeting ID: 830 4197 1186
Password: 700758
29 September at 12 noon UK (BST)
Presenter: Prasad Sawant
Topic: External ocular photography
Meeting ID: 810 8321 8976
Password: 580636
Catch up on previous webinars in the series:
Assessment of tear film and ocular surface with Dr Keyur Patel
Measuring the anterior ocular surface with Dr Stefan Bandlitz
---
FELLOWSHIP EXAM WORKSHOP
The IACLE Education Team are holding monthly workshops to assist members who are sitting the Fellowship Exam on 12 November. The next session takes place on Tuesday 7 September at 11 am UK time (BST) where members can receive advice from a current FIACLE and chat with IACLE's Vice President Dr Shehzad Naroo. We encourage all members sitting the exam to accept their invite to access the Fellowship Exam Area within IACLETOP to help you prepare as thoroughly as possible.
For more information on the Fellowship Exam and FIACLE status
---
IACLETOP
What can IACLETOP offer you?
IACLETOP is our online Learning Management System designed to support educators and their students. IACLETOP is IACLE's central point to access our online resources and teaching materials, with access via the IACLETOP Login.
Did you know?
The Regional Hubs are a language-specific community space to interact and engage with other IACLE members. The Hubs enable members to see who is online, meet and chat in the coffee room or organize a more formal meeting using the conference facility, start discussions to stimulate debate, share and seek advice from your colleagues and share and develop documents and teaching materials.
To access the Regional Hubs, please register here.
---
WEBINARS IN SPANISH
Weekly webinars conducted in Spanish across the Latin America region. Please contact Americas Regional Coordinator Willy Carrillo for more information.
1 September at 11 am Colombia (GMT-5) 
Topic: How to manage residual astigmatism in big diameter RGPs
Presenter: Hector Velazquez
8 September at 11 am Colombia (GMT-5) 
Topic: The essence of basics in contact lens practice
Presenter: Hector Paez
15 September at 1 pm Brazil (GMT-3) 
Topic: How to manage residual astigmatism in big diameter RGPs
Presenter: Sergey Cusato
22 September at 1 pm Argentina (GMT-3) 
Topic: Contact lens practice: Post pandemic
Presenter: Eduardo Elvira
29 September at 11 am Colombia (GMT-5) 
Topic: Keratoconus and contact lenses
Presenter: Carolina Rodriguez
---
NATIONAL
Journal Club in September
This month, Maruee Pahuja and Kavitha Pallery are hosting Journal Club on Friday 17 September at 3 pm India (GMT+5.5). The team will discuss the most relevant papers and topics related to contact lens education. We encourage all members and Fellows of IACLE to take part in Journal Club. If you would like to present, please contact Nilesh Thite.
---
COMMUNICATIONS
To keep up-to-date with our latest news and webinar reminders, follow us on Facebook, Instagram, LinkedIn and Twitter.
---
---
IACLE IS SPONSORED BY