TLC Initiative Monthly Issue #8

Teach. Learn. Connect. in January

The TLC (Teach. Learn. Connect.) Initiative is IACLE's new online education and communications program that will supplement our existing educational activities. Our aim is to support our members, students and industry as recovery from the COVID-19 pandemic continues.
Please note that login details for every event are provided in our TLC Monthlies and TLC Reminders
GLOBAL
Worldwide Wednesday Webinars

We are extending the TLC Initiative into 2021, with weekly webinars on a global, regional and national basis starting with the theme 'Goodbye 2020, welcome 2021' in January. Each month, our Wednesday webinars will follow a particular topic. The IACLE Education Team is exploring various initiatives before announcing what 2021 has in store for our members. Details for this month's 'Goodbye 2020, welcome 2021' themed webinars are below:
Date: 6 January at 3.00 pm India (GMT+5.5)
Language: English
Presenters: Lakshmi Shinde and Nilesh Thite
Please contact Nilesh Thite for more information.
Date: 13 January at 8.00 pm China (GMT+8)
Language: Chinese
Presenters: Qu Xiaomei and Wang Haiying
Please contact Cheni Lee for more information.
Date: 20 January at 2.00 pm Peru (GMT-5)
Language: Spanish
Presenter: Guillermo Carrillo
Please contact Willy Carrillo for more information.
Date: 24 January at 11.00 am Jakarta (GMT+7)
Language: Bahasa
Presenter: Cheni Lee
Please contact Cheni Lee for more information.
Date: 27 January at 12.00 pm (GMT)
Language: English
Presenters: Dr Shehzad Naroo and IACLE Education Team
Please contact Nilesh Thite for more information.
All webinars are now available to view via IACLETOP
IACLETOP
What can IACLETOP offer you?
IACLETOP is our online Learning Management System designed to support educators and their students.

• Webinars – live streamed webinars are removed from our Facebook page after 24 hours the recorded versions are added to IACLETOP within a few days post-event.
• IACLE Contact Lens Course (ICLC) – our contact lens curriculum is accessible through IACETOP and is available in English, Chinese (simplified), Spanish, Korean, French and Italian with some content in German, Portuguese and Russian. You can access the ICLC here.
• Student Trial Exam (STE) – are you interested in assessing your students' contact lens knowledge? This online tool is available for members. Read member and student feedback here.
• Case Report Series – a growing collection of interactive case reports in new formats
NEW this month
From this month, the IACLE Contact Lens Course (ICLC) has been made exclusively available via IACLETOP and is no longer available through our website to ensure members receive full benefits of IACLE membership.
Our first Virtual Conference is available to view through IACLETOP in the IACLE Conferences area, along with other external meetings hosted by IACLE representatives. Lectures have been added to IACLETOP from the virtual International Contact Lens Education Program (ICLEP) that took place from 6-8 November 2020. Additionally, a presentation from the Autumn Conference of the Korean Society of Vision Science (KSVS) conducted as a hybrid conference on 20-21 November 2020 is also available to view on IACLETOP.
During January, the number of Case Reports will increase from four to 10, with additional Case Reports offering alternative assessment methods. Certificates of completion will be provided.
Did you know?
Every Monday at 10 am (GMT), the IACLE Education Team host 'Office Hours', designed to support and help our members with any queries regarding IACLETOP. Please see more information in the IACLETOP Calendar.
Coming up in the New Year…
• The Case Reports are being restructured to provide learning opportunities for students, either as flipped classes or for self-directed learning.
• The Distance Learning Program is being transferred to IACLETOP and will be available soon.
• The IACLE Library is a new area consisting of IACLE images and videos, accessible via a searchable database. Members are able to upload any resources they wish to share with other IACLE colleagues.
REGIONAL
Weekly webinars in Spanish
Weekly webinars to be conducted in January across Latin America. Contact IACLE Americas Regional Coordinator Willy Carrillo for more information. 13 January at 11.00 Colombia (GMT-5) Topic: How to achieve a successful Fellowship Exam Presenters: Johana Garzon and Guillermo Carrillo 20 January at 11.00 Mexico (GMT-7) Topic: How to educate the population on contact lens wear Presenter: Rosalia Ramirez 27 January at 1.00 pm Brazil (GMT-3) Topic: GP contact lenses for myopia control Presenter: Rosalia Ramirez
NATIONAL
Journal Club continues into 2021
The IACLE Education Team in India is hosting a Journal Club to discuss recently published articles. On 22 January at 3.00 pm (GMT+5.5), FIACLEs Fakhruddin Barodawala and Preetam Kumar will present the first Journal Club of 2021. For more information, please contact Nilesh Thite.
COMMUNICATIONS
We are making changes to our membership renewal process to ensure exclusive access to full benefits for our paid-up members. Our new renewal schedule is as follows:
• Access to full membership benefits will end on 31 January if payment is not received
• A late fee will be payable for members who have not paid by the end of February
Please contact your IACLE Representative or reach us at iacle@iacle.org if you have any questions.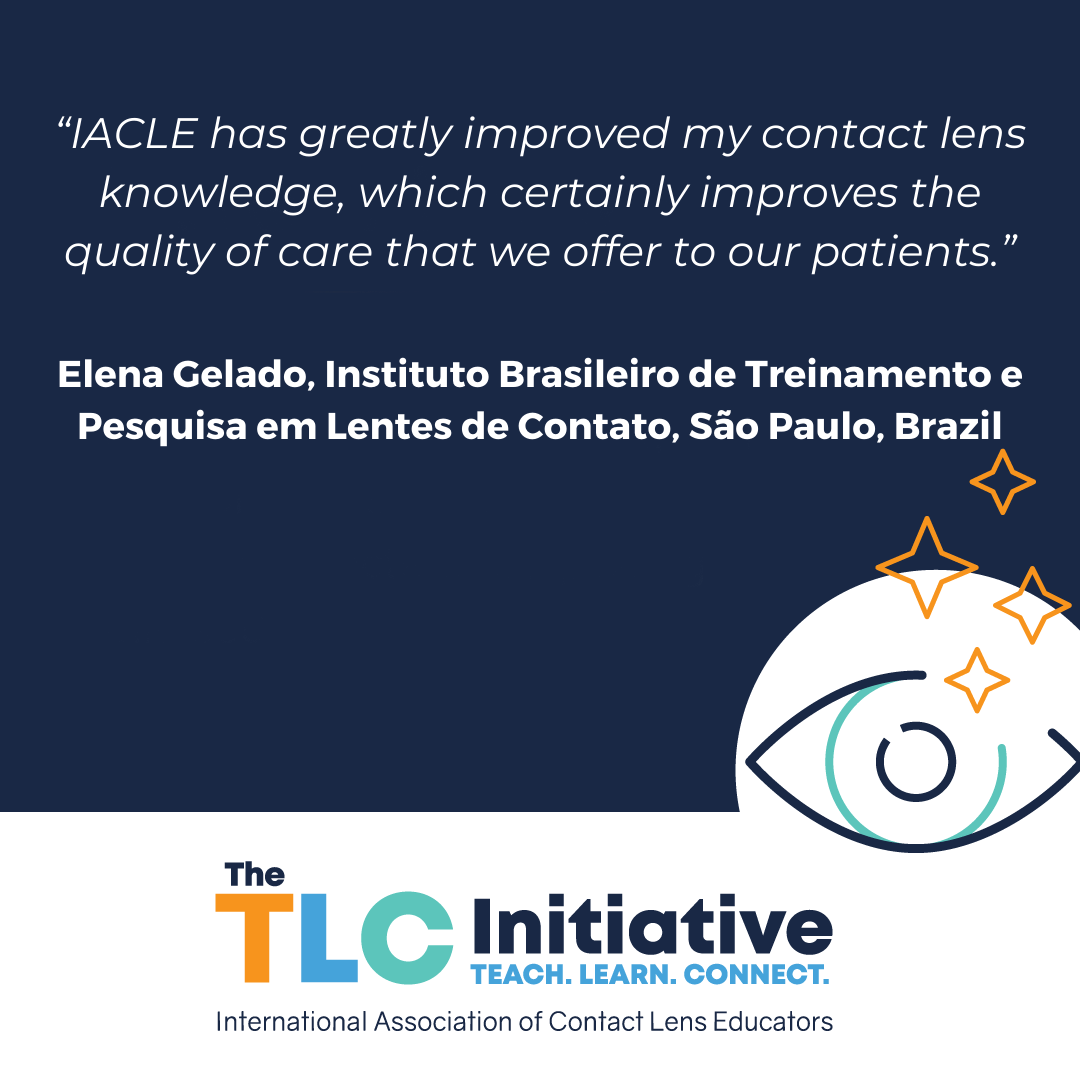 IACLE IS SPONSORED BY