4th IACLE World Congress – Registration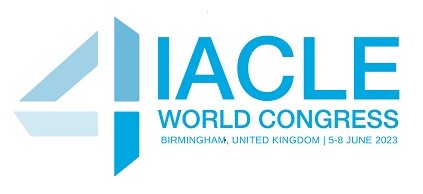 Read this email in
Apply for your place at IACLE's 4th World Congress
Dear IACLE Members,
We are delighted with the number of applications we have received for our 4th IACLE World Congress.
A reminder that travel stipend applications are reviewed on a first come, first served basis, and close on 31 January. The stipend will depend on distance and flight costs. For example, if you are travelling from Asia, your stipend may be higher than if you are travelling from Europe.
The registration cost, including participation in the plenary and workshop sessions, hotel accommodation, lunch on all four days, gala dinner ticket and luxury coach travel to the BCLA in Manchester, will be covered for all registered IACLE members.
IACLE members will also receive an exclusive registration rate for the BCLA's 2023 Clinical Conference & Exhibition (full registration rate is £750, and IACLE members pay £500). Registration for the BCLA opens soon.
Hosted at Conference Aston in Birmingham, UK, the World Congress will take place from 5-8 June 2023 and is timed to precede the British Contact Lens Association's 2023 Clinical Conference & Exhibition in Manchester (9-11 June 2023). IACLE members' participation will be facilitated by the generous support of industry partners sponsoring the workshop sessions: Platinum Sponsor Alcon, Gold Sponsor CooperVision, Silver Sponsor Johnson & Johnson and Bronze Sponsors Bausch + Lomb, Ophtecs and Menicon.
The theme of the congress is Contact Lens Education for the Practitioner of the Future. The four-day meeting will combine hands-on workshops with plenary sessions, networking opportunities, and social events. Delegates will gain direct exposure to the latest technologies to take back to their institutions and incorporate into their teaching.
All questions regarding registering for WC4 should be directed to IACLE Chief Executive Officer Bonnie Boshart at b.boshart@iacle.org.
Visit our website for more information.
Call for Abstracts
The WC4 Program Committee invites IACLE members to participate in a series of 10-minute presentations during the plenary sessions based on selected themes:
Innovation in teaching
Motivating students
Novel assessments
If you would like to take part and present any of the above topics during WC4, please register your intent to submit an abstract via the form here.
Once accepted, a full abstract will be required. Individuals whose abstracts are accepted will be eligible to receive a travel stipend following registration for the congress.
If you have any questions or would like additional information, please contact the Program Chair Professor Craig Woods at c.woods@iacle.org.
---
For more information visit our website
---
Proud Sponsors of the 4th IACLE World Congress on Contact Lens Education