Global Member Newsletter April 2019 – Special Notice
Your invitation to celebrate 40 years of Exceptional Education
IACLE will mark its 40th year with anniversary events around the world during 2019… and you're invited!
Special 40th celebrations will be held at the British Contact Lens Association Clinical Conference & Exhibition in Manchester, UK (30 May-1 June), the Asia Pacific Optometric Congress in Manila, Philippines (17-20 June), the Colegio Federación Colombiana de Optómetras (FEDOPTO) Congress in Bogotá, Colombia (8-10 August), and at the Academy 2019 and 3rd World Congress of Optometry in Orlando, Florida, USA (23-27 October).
The theme for our celebrations is 'Exceptional Education. Exponential Impact'.
Many more national and local meetings around the world will mark the occasion. 40th Anniversary video and PowerPoint resources are available for members to use in their presentations and lectures during the year.
IACLE events at meetings in May and June will include:

BCLA Clinical Conference & Exhibition
IACLE / BUCCLE Education Day at Chancellors Conference Centre, Manchester on Wednesday 29 May from 9 am to 6 pm, including IACLE Annual General Meeting. Details here. Email s.allen@iacle.org to attend Education Day
Interactive BCLA exhibition booth where you can 'Make Your Mark' on a time wall of milestones in the history of IACLE
40th Anniversary Celebration on Thursday 30 May at 5 pm at our exhibition booth
IACLE Awards Ceremony
International Perspectives session on Thursday 30 May from 12 noon to 1.10 pm with 40th Anniversary presentation by IACLE President Dr Shehzad Naroo
Find the full BCLA program here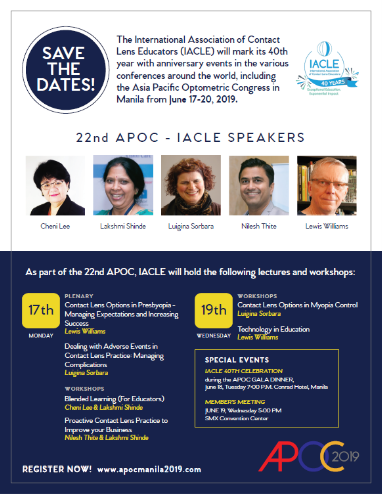 Asia Pacific Optometric Congress
40th Anniversary Celebration and IACLE Awards Ceremony during Gala Dinner on Tuesday 18 June at 7pm
Interactive exhibition booth where you can 'Make Your Mark' on a time wall of milestones in the history of IACLE
Lectures from Lewis Williams and Luigina Sorbara, and workshops from Cheni Lee, Lakshmi Shinde and Nilesh Thite, on Monday 17 June
Invited Lecture from Luigina Sorbara on Tuesday 18 June
Workshops from Luigina Sorbara and Lewis Williams on Wednesday 19 June
IACLE Members Meeting on Wednesday 19 June at 5pm
Find the full APOC schedule here
Other events
IACLE will also be holding an Educator Meeting to coincide with the European Academy of Optometry and Optics (EAOO) Annual Conference in Rome, Italy (18-20 May). The IACLE meeting will run on the afternoon of Friday 17 May at Università Roma Tre. Details of the program here. Email k.jayanna@iacle.org to attend the IACLE Educator Meeting.
More details on the FEDOPTO and Academy/WCO events will be provided at a later date. Visit our 40th Anniversary Events web page
here
Click here for anniversary resources to use in your presentations and lectures
Click here to find out more about IACLE's early history